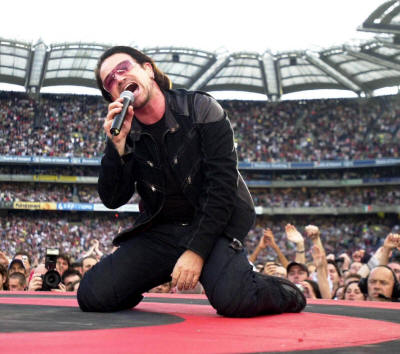 BONO: The Complete Solo Projects (5) Bono's solo work, collaborations, soundtrack contibutions, guest appearances, this and that collected over 5 generous discs. Hits and misses, but a worthy effort.

COVERING 'EM. Various audience recordings which varies in quality. Number of Dylan songs and a couple of appearances of Bono at some of Bob's gigs - about half the disc.

RAIN ON YOU Various live tracks and covers - I don't have good source info. The disc sounds great!!

THIS AIN'T NO SWAMP MEET. Excellent set of b sides and live tracks.

BOSTON 24 (2) 24 tunes from various tour stops in Boston. All good to excellent quality.

FOUR WILD IRISH ROSES. Various demos and sessions from 1978 to 1981. All in excellent sound, some sounding not very much different than the released material.

ANOTHER TIME, ANOTHER PLACE. Live compilation from the 1981 tour. They were a bunch of raw, hard charging rock and rollers in their youth. Soundboard quality.

A LATE NIGHT PLAY IN BOSTON. March 6, 1981, Boston, Massachusetts. I was late to this band and I can see why. Decent recording, but they had a way to go.

MARCH 17, 1982. The Ritz, New York City. From the stage chat, it sounds like it was their 2nd time in the City. A band on the rise!

US FESTIVAL. May 30, 1983. Silly fun from this Irish band. They got better, but they were still quite good.

UNFORGETTABLE NANTES THE COMPLETE CONCERT (2) October 23, 1984. Nantes, France. What a terrific soundboard. Very strong early show, top shelf. Artwork doesn't match set.

OCTOBER 30, 1984 (2) Rotterdam, The Netherlands. Somewhat sub par taping, but the passion shines thru.

ROCK'S HOTEST TICKET (2) APRIL 29, 1987. Chicago, Illinois. Fantastic, man, Fantastic.

JUNE 12, 1987 (2) London, England. Sweet analog Soundboard recording at Wembley. These boys are big time now.

JUNE 17, 1987 (2) Cologne, Germany. A subpar audience taping, the Irish boys do their part though opening with Eddie Cochrane's "C'mon
Everybody."

JUNE 24,1987 (2) Crap recording. For Completists only.

JUNE 27, 1987 (2) Ditto. Ditto. (see above)

FOREVER IN FEVER, FOREVER IN HEAT (2) September 18, 1987. Boston, Massachusetts. Killer stuff.

SEPTEMBER 22, 1987 (2) Foxboro, Mass. Not sure what the story is with the above show. Is it dupe or a different one.

ZOOTOUR. October 9, 1987 (2) Fine, fine soundboard gig. Love it!

OCTOBER 27, 1987 (2) Syracuse, New York. Supremely confident show in soundboard sound. Super.

NOVEMBER 7, 1987 (2) Denver, Colorado. Great sounding show. Ascend ascend!

STOP THE TRAFFIC ROCK N ROLL. NOVEMBER 11, 1987. It's the Save the Yuppies Free Concert along with some bonus tracks. Great stuff.

NOVEMBER 15, 1987 (2) Oakland, California. A fantastic show with some very cool arrangements & performances. "Still Haven't Found" was incredible. Who knew the Larry Mullen Jr could play so well. Exceptional show.

MEMORIAL COLISEUM (2) November 18, 1987, Los Angeles. Superb soundboard of a band hitting on all cylinders and knowing it. They have figured it out and the big ride was just beginning.
DECEMBER 19, 1987 (2) Tempe, Arizona. Sweet Joshua Tree show, wondrous sound.
DECEMBER 16, 1989 (2) Dortmund, Germany. Acceptable recording, just makes it. The vocals are upfront and Bono can connect.

DUBLIN 1226 DAY 1 (2) December 26, 1989. Dublin, Ireland. The first of two nights in soundboard, fantastic.

XXVII (2) December 27, 1989. Dublin, Ireland. Super soundboard show. BB stops by too. Oh yeah, its' great.

MOUNTAINS & DESERTS (2) Presented as the soundtrack unedited of Rattle & Hum. Really good stuff. Love those guys!

JESUS WAS A COOL GUY. Terrific accoustic collection from various shows mostly in the early 90's. Plenty of covers mixed in - A nice one.

JANUARY 9, 1990 (2) Rotterdam, Netherlands. A good example of a not so great audience taping that captures the warmth and passion of a live concert. However, it someone ran it's course, by the middle of disc 2.

SAN PAOLO VIRTUAL. (2) Knockout set from the Pop Mart Tour. High quality audience
recording, hard to realize sometimes that it isn't a soundboard.

ACOUSTIC TV. Various acoustic tracks collected from the ZOO TV and Zooropa Tours. Hit and miss.
THE WARMTH OF THE BREEZE (2) June 11, 1992 Stockholm, Sweden. Fantastic Zoo sound boarder.

ZOOTOUR (2) June 15, 1992, Rotterdman, The Netherlands. A wicked soundboard is a fun listen. Hey my twin boys were born on this day!

AUGUST 07, 1992 (2) Hershey, Pennsylvania. Nicely recorded show though inconsistant at times. Bono continues to captivate.

UNDER THE NEW JERSEY LIGHTS. August 13, 1992 (2) So sweet this soundboard show is, it's simply a fantastic listen. Nice little acoustic mid set of "Angel of Harlem" and "Still Can't Find" which alone sends me to the moon.

AND NOW A WORD FROM OUR SPONSOR. August 16, 1992. Washington, DC. Another superb soundboard from this ambitious, odd and invigorating tour.

OCTOBER 14, 1992 (2) Houston, Texas. Simply a fantastic, superb performance. Magnificant. Splendid. Delightful. Great.

ZOO RADIO: U2 LIVE IN CONCERT. November 26, 1992. Italy. Fun live radio show with various cut ins. So self referential that Bono, but I dunno I still dig it.

AUGUST 14, 1993 (2) Leeds. Enjoyable Zoo TV show. Who says exceess ain't cool.

AUGUST 28, 1993 (2) Dublin, Ireland. Soundboard. Entertaining stuff. So many great moments, the audience call and response on "Loves Comes to Town." And a well captured "Satellite of Love" with a piped in Lou Reed.

ATTENTION THE ACTUNG SESSIONS. Nice collection of studio outtakes - these guys are real good in case you didn't know.

SALOME: THE ACTUNG BABY SESSIONS (2) Very good alternate takes, outtakes, instrumentals. Superb listening.

THE WORKING TAPES. Evesdropping never been this fun, it's a blast listening into the creation process of the actung album.

APRIL 25, 1997 (2) Las Vegas Soundboard Pop Mart, the show didn't quite work, but still satisfies.

LIVE FROM EAST RUTHERFORD. (2) JUNE 1, 1997. That's East Rutherford, NJ. Great soundboard show.

AN EMOTIONAL GOODBYE (2) AUGUST 22, 1997. London, England. Terrific soundboard show with bonus tracks from Mannheim's August 31 show. .

U2: POP MART TOUR. September 23, 1997. Sarajevo. Excellent radio broadcast.

SHALOM ISRAEL (2) SEPTEMBER 30, 1997. Tel Aviv, Israel. Slick taping - its a sharp soundboard. Shalom lads. Great stuff. "Bullet" is recast a bit funkier than usual. There are some setlist misses, but it's fun. I don't get a cover Abba's "Dancing Queen." Simply no.

POPMART MIAMI SOUNDBOARD. November 14, 1997 (2) Miami, Florida. Immense soundboard. So frickin good. It just is flat out incredible.

THE LAST NIGHT ON EARTH. March 21, 1998, Johannesburg, South Africa. Super soundboard and show.

BUENOS AIRES. June 2, 1998 (2) Buenos Aires, Argentina. Argentian radio broadcast. while Pop Mart is noone's favorite record it was still an engaging tour. Still an enjoyable dinner.

CHILE POP. NOVEMBER 2, 1998 (2) Santiago, Chile. While noone's favorite album, this band is so good that they can take it on the wrong and still pull off a fine show. You get some powerful prosoletizing from Bono that only Bono can't get away with and still keep a massive audience. Soundboard. And good.

LIVE AT FARMCLUB.COM. October 27, 2000. Los Angeles, California. TV gig and a good one. 5 Song set performed well.

DECEMBER 5, 2000. Irving Place, New York City. Interrupted between songs with radio ID's, this is a fabulous, clean show - closing with "You Won't Get Fooled Again."

MARCH 29, 2001 (2) Charlotte, North Carolna. Ears adjusted quickly enough for these Irish lads. Terrific show.

ELEVATE YOUR MIND (2) March 26, 2001, Fort Lauderdale, Florida. Decent audience recording of a wondrous show. Just love how Bono weaves in snippets of lines of various songs into their own stuff. Special.

FINDING MY RELIGION (2) March 30, 2001. Atlanta, Georgia. Wowee Zowee. Terrific.

SECOND NIGHT IN CALGARY (2) APRIL 10, 2001. Calgary, Canada. A Shite recording. Blah.

MAY 12, 2001 (2) Chicago Illinois Nice IEM/AUD matrix boot. Delight.

LOVE THIS TOWN, CHICAGO TOWN (2) May 15, 2001, Chicago, Illinois. Soundboard/ALD recording with the first 2 songs ruined due to source/tech problems with volume, then it's perfect. Incredible and warm. At the end of the listen you realize that this is a top shelf band in all their glory.
JUNE 2, 2001 (2) Albany. A nice audience/IEM matrix. Delight.

JUNE 6, 2001 . Boston, Massachusetts. Middling audience taping of a band at or near it's peak. I saw this show and the boot doesn't do the night justice.
JUNE 6, 2001 (2) Boston, Massachusetts. Thankfully a soundboard emerges later matching my memory.

JULY 9, 2001 (2) Stockholm, Sweden. Rock and roll, babe. Good audience taping and Bono was singing well all nite long. Fine work, lads - love it.

JULY 10, 2001 (2) Stockholm, Sweden. 2nd night and another super show. Well recorded. LOVE LOVE LOVE.

JULY 17, 2001 (2) Paris, France. Soundboard. I will never tire of the Elevation Tour. I feel the band's peak.

LIVE FROM SOUTH BEND (2) October 10, 2001. South Bend, Indiana. You just can't go wrong on this tour. Another Soundboard.

OCTOBER 24, 2001 (2) New York City. Soundboard. Terrific.

OCTOBER 25, 2001 (2) New York City. Soundboad and a beaut. 45 days after WTC Top shelf.

OCTOBER 28, 2001 (2) East Rutherford, New Jersey. ALD recording. Superb and powerful show - woo man!

NOVEMBER 9, 2001 (2) Salt Lake City, Utah. Soundboard. Baby Soundboard.

NOVEMBER 16, 2002 (2) Oakland, California. The beat goes on.

NOVEMBER 19, 2001 (2) Las Vegas, Nevada. Drew's Dub (2 Source Matrix). Good stuff from my favorite era.

NOVEMBER 30, 2001 (2) Atlanta, Georgia. Soundboard once again

DECEMBER 1, 2001 (2) Tampa, Florida. Yet another Elevation tour sound boarder.

DECEMBER 2, 2001 (2) Miami, Florida. I think the final show of the tour, at least judging from the stage chat. Excellent.

U2. SUPER BOWL XXXVI. February 3, 2002. New Orleans. TV Soundboard of the 3 song set. They were fantastic and so was the game. Go Pats!!

CLINTON LIBRARY/BROOKLYN BRIDGE PERFORMANCES 2004. 3 Tunes + praise for Bill and then the 4 bit perfect rock tunes announcing the tour at the Brooklyn Bridge. It's a gas.

NOVEMBER. 2004. Nice little set, you get BBC Radio (11/16) SNL, Live in the Studio and then a Performance at the Clinton Presidential Center.

May 24, 2005 (2) Boston, Massachusetts. An enjoyable show, but just a decent taping. I attended this one so it has to be on my shelf.

OUT OF CONTROL (2) May 26, 2005. Boston, Massachusetts. Shitty taping, just couldn't make it thru. Maybe it's not that terrible, but why bother.

JUNE 4, 2005 (2) Solid show, no setist info.

JUNE 18, 2005 (2) London. Twickenham Stadium, Radio Broadcast. This is good stuff.

AUGUST 11, 2005 (2) Madrid, Spain. Spectacular show. A sweet audience taping. Explosive! Amazing! Dynamic! Cool!

OCTOBER 4, 2005 (2) Boston, Massachusetts. While certainly another audience taping this one has a bit more warmth and feel that the other one. Captured all of the magic I saw.

OCTOBER 17, 2005 (2) Philadelphia, Pennsylvania. Another superlative show, great listening -- they are magical, man. Bruce Springsteen droops by to help out on "People Get Ready."

NOVEMBER 14, 2005 (2) Miami, Florida. Just can't get enough. Great recording!

DECEMBER 9, 2005 (2) Buffalo, New York. Marred slightly by a little too much chatter, the music is still captured well. A Terrific "Elevation" among its highlights. Bono is cool.

FEBRUARY 20, 2006 (2) San Paolo, Brazil. Fabulous soundboard with a quick improv take on "Norweghain Wood" toward the end.

NOVEMBER 11, 2006 Auckland, New Zealand. Untenable recording. Not worthy.

DECEMBER 4, 2006 (2) Saitama, Japan. Just love the tour. Nice soundboard. It's all good.

ROLLING STONE INTERVIEW PODCAST. (3) Bono interviewed by Jann Wenner for 2 hours or so downlaoded from Itunes -- in case you missed it. Great stuff about childhood, influences, lots of Dylan discussion, world poverty, aids and sunglasses.

NO LINE ON HORIZON. PROMOTIONAL TOUR: FEBRUARY/MARCH 2009 (2) Collection of various TV shows and other gigs done to promote the album's release. All in crystal clear sound. You get about a dozen versions of "Boots" a few more than I need.

FUTURE NEEDS A BIG KISS. January-February 2009. Includes various shows and promo events including the Sommerville (3/11/9) gig amongst other cool stuff.

JUNE 30, 2009 (2) Barcelona, Spain. Opening show of the 360 Tour. Well, it's only an acceptable taping. Bono, as always, eager to please seems to always find a way to do so. Hope they keep "Angel of Harlem" in the setlist each night. A few too many "Horizon" tunes though they seem to sound better live than on the overcooked album.

JULY 7, 2009 (2) Milan, Italy. Very good audience taping, memo to Bono, you can change the setlist and drop a couple of "Horizon" tunes. With that said, it's thoroughly enjoyable.

JULY 24, 2009 (2) Dublin, Ireland. Hometown gig, soundboard. Great stuff.

AUGUST 20, 2009 (2) Sheffield, UK. Superb radio broadcast. It's kicks. It swings. It dances. Love these guys.

SEPTEMBER 21, 2009 (2) Foxborough, Massachusetts. Very good audience taping of a terrific show. I attended it and my cheap obstructed view seat got upgraded to prime seating. Thanks boys.

AUGUST 6, 2010 (2) Turin, Italy. Superb soundboard. It's a blast, blast, blast.

TALE OF FOUR BROTHERS (2) August 21, 2010 (2) Helsinki, Finland. Terrified IEM Recording. Great.

360 DEGREES ATHENS. September 3, 2010 (2) Athens, Greece. It's an IEM and 2AUD Matrix taping, for the most part quite good.

SEPTEMBER 12, 2010 (2) Zurich, Switzerland. Very sharp recording and another superb show by these guys. Bono: he's a shameless shaman and frontman but an amazing one.

SEPTEMBER 26, 2010 (2) San Sebastian, Spain. Spectatcular audience recording. Very enjoyable

OCTOBER 2, 2010 (2) Coimbra, Portugal. Soundboard. Excellent

OCTOBER 8, 2010 (2) Rome, Italy. Another example of how an audience taping - even one with chat around the taper - can be exhilirating.

JANUARY 18, 2011 (2) Cape Town, South Africa. Radio broadcast as two big files as the tracks were not split up. Wonderful show with an inspired and engaged band.

THIS SHOW WILL LAST FOREVER (2) April 13, 2011. San Paulo, Brazil. This is a fantastic, spectacular radio show - wondrous performance. with so many highlights. Loved Sue Jorge guest appearance too. This is the good stuff.

MAY 11, 2011 (2) Mexico City, Mexico. Great 360 show in perfect sound.

MAY 29, 2011 (2) Winnipeg, Canada. Another excellent soundboard.

GLASTONBERRY 2011 (2) June 24, 2011. Super show - soundboarder - from the legendary festival. Smashing good time.

JULY 30, 2011 (2) Moncton, Canada. Superb soundboard - I think radio broadcast. I think that this tour has generated like 300 billion dollars.

SEPTEMBER 12, 2018 (2) Paris, France. IEM Matrix Recording. Nice era show.

WORLD AIDS DAY. December 1, 2014. Times Square, New York City. The 4 song set with guest vocalists Chris Martin & Bruce Springsteen as Bono was sidelined with his bike injury. Fun.

MAY 19, 2015 (2) San Jose, California. Very very good audience taping. Wonderful show, you get a half dozen or so of the new album - a misfire - and then great legacy material.

MAY 28, 2015 (2) West Hollywood, California. The boys at the Roxy doing a little club gig. Fun stuff.

JULY 18, 2015 (2) New York City. Nice Innocence & Experience show.
LIVE FROM AMSTERDAM (2) September 8, 2015, Amsterdam, Holland. Fabulous soundboard, the band is humming.
WHO'S THE TALLEST OF THEM ALL. November 11, 2015 (2) Paris, France. Sweet soundboarder.
PARIS 2015 (2) December 6, 2015 (2) Man oh man, this is a terrific show. Patti Smith joins in at the encore to help out on "People Have the Power." Soundboard.

MAY 12, 2017 (2) Vancouver. Opening night of the The Joshua Tree tour, fab.

MAY 14, 2017 (2) Seattle, Washington. Very nice recording from the Joshua Tree Anniversary Tour. A couple of shout out to Bill Gates and Paul Allen. Love Bono, but he is certainly in someone else's Club than mine.

JUNE 4, 2017 (2) Chicago, Illinois. Good audience taping. 40th Anniversary Joshua tree tour.
LIVE FROM SAO PAULO BRAZIL. (2) October 25, 2017, Sao Paulo, Brazil. IEM Soundboard of the mighty band kicking it up south of the border.

U2 AT THE BBC. December 19, 2017. Abbey Road Studios, London. Little promo stop with the boys stopping in to chat and play.

U2 REHEARSALS. April 20, 2018 (2) Interesting stuff as the boys get it all together.

MAY 8, 2018 (2) San Jose, California. A decent, imperfect audience recording.

JULY 1, 2018 (2) New York City. The boys hit the city. Good music and big show