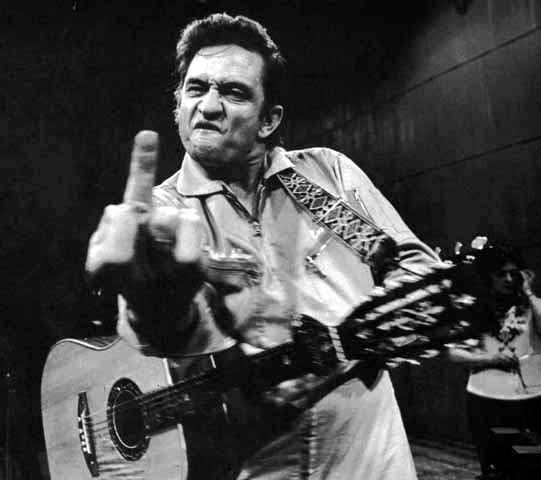 PRIVATE ACETATE. 1954. What a unique and odd item. This is a 2 track acetate - the first track is Johnny professing his love for Vivian. The 2nd is a little song, "Am I TheOne"

ON THE AIR. 1954. This is an old radio show, charming. Must have been a mono recording. Includes Johnny doing the ads. At the end, the dj mentions a package show headed by Webb Pierce with others including Elvis Presley. A neat artifact -- who knows how it got unearthed.

COUNTRY STYLE USA. US ARMY RECRUITMENT SHORTS 1958 AND 1959. A really fun radio broadcast sponsored by the army - "Serve Yourself...and your country." Johny plays a couple of early hits with warmth and swagger.

TOWN HALL PARTY '59. John's got a bit of larangitis, but the show must goone. 5 Tunes - 13 minutes including an instrumental. Good stuff.

THE FABULOUS JOHNNY CASH SHOW. (2) March 14, 1961, Houston, Texas. This is incredible. One of those old fashioned country package shows with Roger Miller, George Jones, Rose Maddox, Gordon Terry and others. To my ears, must have been in glorious mono. Wow, man.

HOLLYWOOD BOWL June 23, 1963. Hollywood, California. A couple of tunes from a west coast Country radio show. Excellent.

FREE TRADE HALL. September 3, 1973 (2) London. England. With Carl Perkins and the Tennessee Two. Great sounding soundboard recording. Wondrous stuff.

THE SUN DEMOS AND OUTTAKES. Precious collection.

NEWPORT FOLK FESTIVAL 1964. 7 Song set with an introduction from Pete Seeger. What a present.

JUNE 29, 1968. London with bonus tracks from February 29, 1972. Great show with Tennessee Three with last show of Luther Perkins who died just over a month later. Soundboard.

THE HOLY LAND CONCERT. BBC broadcast featuring Carl Perkins, The Statlers & Mother Mabel Carter. Terrific, amazing show lots of old time religion. Great!

JOHNNY CASH. SWEDEN 1971. This is a TV show recording with the Statler Bro's, Carl Perkins and June in tow. Very fun show with Johnny acting as MC and in charge, not perfect sound, but I adjusted easily. Wondrous music.

FEBRUARY 26, 1972. Amsterdam. A great sounding recording, unfortunately not the complete show. Both Carl Perkins & June stop by.

OCTOBER 27, 1972. Tulsa, Oklahoma. With June, Carl Perkins & The Statlers. Fab soundboard -- just love it.

SEPTEMBER 3, 1973. (2) MANCHESTER, UK. Excellent set with opener Carl Perkins.

SEPTEMBER 15, 1975. Berlin, Germany. Soundboard. A special recording. Warm, fun with great spirit. Among my Favorite of Johnny's boots.

OCTOBER 2, 1976. Wheeling, West Virginia. Whistle clean soundboard, youthful Johnny in good form.

ROCKABILLY. (2) April 19, 1981, Rotterdam, The Netherlands. What a FUN show. Marty Stuart comes out early and Jerry Lee Lewis and Carl Perkins comes out late for a couple at the end. Precious.

BELMONT PARK, May 23, 1981, WHN 1050AM, Belmont, New York. Sketchy but enjoyable show with Marty Stuart and June in tow for 10 tunes.

MAY 24, 1981. Wheeling, West Virginia Superb radio show, wondrous and rich.

FEBRUARY 21, 1982. Des Moines, Iowa. Alas another superb show from the Man in Black. Love it.

DECEMBER 19, 1982 (2) Fort Worth, Texas. With JC you always get warmth, authenticity +soul and often similar set lists. You do get the hits but a few curves in this show. That's the good news, the bad news is that this is just a acceptable recording.

APRIL 1, 1984. Jones Country Park, Texas. Johnny & June show up for a show at one of George Jones' theme parks that he various owned over the year. George opened the show with a joke about being a "no show" and then doing "I Got Stripes" with Johnny. Delightful.

MARCH 13, 1986. Wembley Stadum, UK. BBC Radio broadcast, terrific family show, you'll luv it.

MARCH 31, 1986 (2) London, England. Excellent set.

MAY 4, 1986 (2) (Early Show) Lincoln, UK. Not a great recording, but John was great.

AUGUST 27, 1987. Gdansk, Germany. Radio show possibly BBC. Outstanding, man. Loved.

MAY 8, 1989 Early Show (2) The first disc is basically the Carter Family-- son John, June and her sisters. The 2nd disc is mostly Johnny. Decent audience recording.

MAY 8, 1989 Late Show (2) Similar format to the earlier show.

MARCH 20, 1989. Minneapolis, Minnesota. Superb little big gig. Great sound and warm as always.

THE BEAST IN ME. The consumate showman, he brought a great show with him to the Rocky Gap Festival in Maine in August 25, 1990. June Carter comes out for a couple with some nice stage banter. A legend.

BRING IT BACK ALIVE. Another version of the above show. So good, you need to own it twice.

JUNE 28, 1992. Chatty audience taping, but the music shines thru -vocals upfront and strong.

AMERICAN RECORDINGS OUTTAKES. This is beautfil stuff, but my setlist info is incorrect you get Lucinda's "Change the Locks," "T For Texas" and more. It's great and intimate, a few coughs and stuff. One long file.

THE FEZ CLUB. APRIL 13, 1994. New York City. 13 Tunes with daughter, Roseanne, stopping by to help out on "Big River." Excellent sound quality.

JUNE 24, 1994. Glastonbury Festival, UK. Radio broadcast with a couple of interviews to boot. Great performance from Johnny. Loved!!!!!

DECEMBER 8, 1994 (2) Austin, Texas. A generous two disc show in commercial sound. The singing was right on - lively and beautiful. Just sensational. All powers on display, man.

FEBRUARY 2, 1995. (2) Charlotte, North Carolina. A decent, but less than perfect recording.

AUGUST 4, 1995 (2) Devon, Pennsylvania. Nice show and performance. No setlist. It all comes thru except the between song chat you have to strain to hear. So much good stuff, including a bunch of gospel.

SEPTEMBER 7, 1996 (2) New York City. Seemed to start a little slow, but got energized as he got to a couple of songs from the soon but yet to be released "Unchained " album.

JULY 5, 2003, Hilton, Virginia. Final performance at the Carter Fold, 7 tunes from the very old man. Apparently a difference source than the DVD that is commercially available. Soundboard.

THE SURVIVORS. Nice show with Jerry Lee Lewis & Carl Perkins. Soundboard.